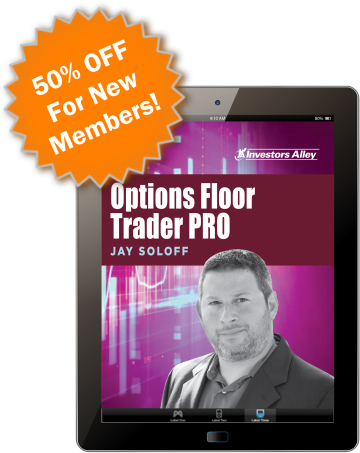 Options Floor Trader PRO is the entry point to your next profitable option trades.
You'll use the same strategies I used myself on the floor of the CBOE. In no time at all you'll feel like a pro yourself once you start.
The goal of Options Floor Trader PRO is simple: take you from a beginner option trader with a small account to a confident option trader with a larger account.
To help you get started and make sure there's nothing in the way I'm offering charter memberships at the lowest price you've likely ever seen an options trading service offered.
Now accepting new members! Click here.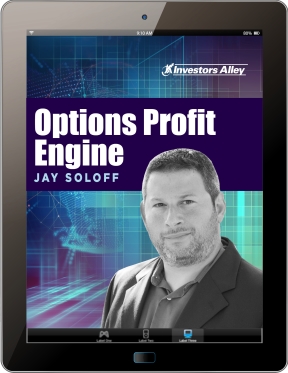 Options Profit Engine is a new kind of options advisory service delivering bring professional level research and trading strategies to individual investors. This is the brainchild of expert options trader Jay Soloff who previously was market maker at the Chicago Board Options Exchange for some of the biggest companies listed.
Now Jay's making his trading secrets – the ones that made him a highly sought after trader – available to you with Options Profit Engine.
With Options Profit Engine you'll get weekly options trade set-ups for any market condition using Jay's proprietary trading strategies. You'll also benefit from his Options Volatility Analyzer, Call / Spread Trader, Iron Condor Weekly Alerts, and much, much more.
Click here to find out how Jay can help you achieve double, even triple, digit gains with your options trades.
Current subscribers to Options Profit Engine click here to log in.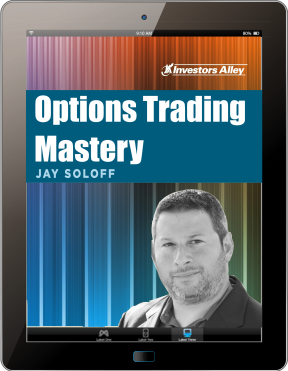 Volatility spiked…. meaning it's harvest time for options traders.
That's why Jay created the Options Trading Mastery.
Because after 20 years of trading options… for the first time anywhere….
He's releasing everything he know about options in one private course. All the intel he collected from his days working on the floor of the CBOE. All the Insiders tips picked up as an options Market Maker. All revealed in seven complete strategies with examples.
In total, to go through everything, he's clocked the course at five hours. With this complete course you can:
In as little as 5 hours, you could master options as well as a seasoned trader.
Have confidence to trade 7 new strategies right away.
If you're new to Options or you're looking to sharpen the saw… the seven strategies Jay shows you in the Options Trading Mastery can help.
Click here to view all seven strategies and all Jay's secrets right now.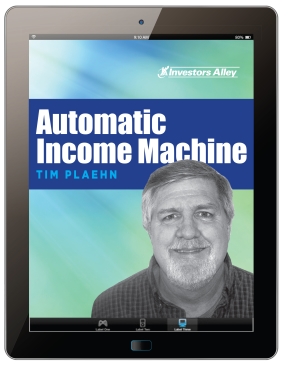 The Automatic Income Machine is a new kind of disciplined, step by step wealth-building system designed for serious investors.
The objective is to provide you with a realistic, proven way to grow a small amount of money into a decent-sized portfolio that can support you and those you love for the rest of your life.
Automatic Income Machine is specifically tailored to those investors who have already saved up at least $50,000 for retirement and now want to accelerate the growth of their next egg.
This is not an investing course, software system, or tip sheet.
Instead, think of it as a coaching program for creating wealth.
Click here for Tim's special wealth building system using dividend total returns.
Current subscribers to Automatic Income Machine click here to log in.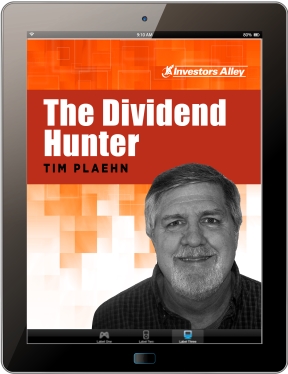 A high-yield income and dividend service dedicated to bringing you the very best dividend income opportunities available (current average yield of the portfolio is around 8%).
With each issue editor Tim Plaehn uses his unique cash flow analyzer system to bring you in-depth research on dividend investments for not only high yield but dividend growth as well. Anyone can find high yield stocks, but Tim goes the extra mile to find those that can sustain their dividend payments and have a management team with a commitment to increasing dividend payouts. These are the kinds of investments you can rely on for steady, reliable "Endless Income" month after month, quarter after quarter, and year after year.
Click here for details on Tim's Endless Income Strategy.
Current subscribers to The Dividend Hunter click here to log in.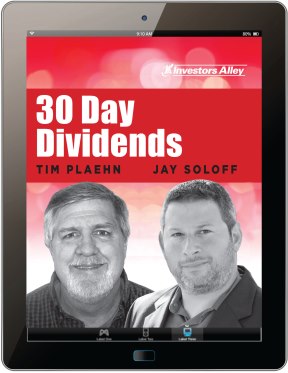 As a new and innovative approach to income generation, 30 Day Dividends seeks to reward investors with steady income using conservative short duration covered call trades.
This service from Tim Plaehn, known for his work with The Dividend Hunter, employs a strategy of event based trades on certain dividend stocks with Jay Soloff's deep understanding of how to play some of the fastest moving stocks in the market.
The objective is to deliver quick gains that are anywhere from two to four times greater than the published dividend yield… and in many cases actually collect the dividend as a bonus to the gains from the trade.
Even with the market turmoil of fall 2018 their track record is the envy of traders everywhere: 34 winners out of 36 trades for a win-rate of 94%.

Click here to get started on this winning strategy.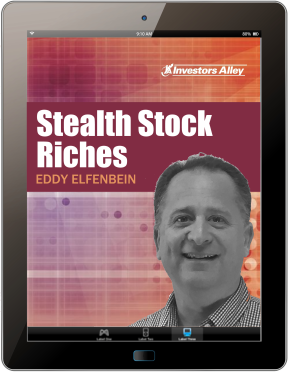 Stealth Stock Riches is a new kind of investment research service delivering big gains from stocks with little to no analyst coverage. These are the kinds of stocks that fly under the radar until their big run-up leaving everyone but an informed few wondering what happened and how do they get in on the next one.
This is your opportunity to get the next Stealth Stock with Eddy Elfenbein like the 221% return he delivered in 12 months with Nicholas Financial… that then went on to 532% profits.
Or, a 151% return in 12 months with Cognizant… that then went on to 786% profits.
Plus, the 93% return in 12 months on Amphenol… that then went on to generate 655% profits.
These are just three of many of his stealth stock picks. Click here to get Eddy's #1 Stealth Stock for 100%+ gains in the next 12 months.
Current subscribers click here to log in.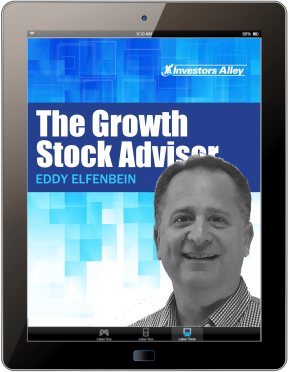 The Growth Stock Advisor is a balanced portfolio approach to high and medium growth stock investing. The core portfolio consists of around 20 positions spread between core large cap stocks for steady growth, dividends, and protection from market downturns and a group of small and medium cap stocks to take advantage of sector moves and secular tailwinds. This balanced approach lets you ride the smaller stocks to double and triple digits gains while the larger stocks ground the portfolio for long term growth.
Each issue of Growth Stock Advisor brings you independent, detailed research on the kinds of stocks you'll want to hold in your portfolio for a very long time.
Current subscribers click here to log in.